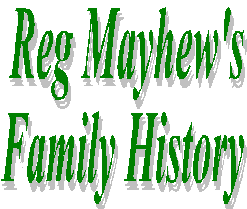 I've traced my Humphries ancestry back to my 3 x Great Grandfather, James Humphries (c1791-1833), a Westminster Butcher, who married Anne Smith (of Dorchester, Dorset) in Marylebone, London on 26th November 1822. James and Ann had 4 children, including my 2 x Great Grandfather James junior (c1830-1891).
Where James senior was born is not known. He died in 1833 and was buried at St. John's, Smith Square, Westminster.
---
My 2 x Great Grandfather was James and Ann's 2nd child, James, born c1830 in Westminster. James junior followed in his father's footsteps as a Butcher in Westminster. He married Sarah Spreadbury on 9th March 1851 at St. Martin-in-the-Field, London. 3 weeks later at the end of March, the newly-weds are recorded in the 1851 Census at 13 Frederick Street, Westminster. At the same address were James' mother Ann and brother William. It appears James and Sarah had only 1 child, my Great Grandfather Alfred James. By the following Census in 1861, James is living with a new 'wife', Martha, at 2 Causton Street, Westminster (in the shadow of Millbank Penitentiary), where he resided for the next 30 years until his death in 1891. What happened to Sarah is not known. It appears that James had no children with Martha who was 11 years his senior, and no record of their marriage has been found. 10 years later at the 1871 Census, James has another wife, Mary (nee Starr), whom he married on 23rd October 1870 at Kennington Parish church, Lambeth, Surrey. What happened to Martha is not known. James and Mary had 4 children.
---
My Great Grandfather was James and Sarah's only child, Alfred James, born on 16th March 1852 in Chelsea. Alfred married Hannah Mary Kaley on 27th September 1870 at St. Paul, Charlton, Kent. They had 13 children, including my Grandfather, William Alfred.
Alfred James enlisted in the 21st Hussars in 1874 and served for 8 years with the colours. On completion of his service in Ireland in 1882, Alfred and Hannah returned to England with their family and were residing at 3 Rickett Street, Fulham, London at the 1891 Census.
Alfred died in 1901 (see My Canadian Humphries family. Hannah died in 1907.
We get a treasured insight into the characters of Alfred and Hannah from the report by the Barnardo's enquiry officer, prior to their daughters, Maud and Lizzie, being taken into care and shipped out to Canada.
Alfred - "After leaving the army he became a coachman. His discharge papers, as well as testimonials from private employers, bore witness to the excellent character he bore"
Hannah - "The mother is sober, respectable and hard-working. Since the father's death she has supported herself and four young children by charing and nursing but from all sources her earnings have not exceeded 7s 6d to 8s per week."
---
My maternal grandfather, William Alfred Humphries, was born on 9th May, 1878, the eldest son of Alfred and Hannah. At that time his father was a cavalryman serving in the 21st Hussars and William's early years were spent moving around the country and staying wherever his father's regiment was stationed. William was born in Shorncliffe Barracks at Folkestone, Kent and, over the next 4 years, moved with the regiment to Norwich, Leeds, Edinburgh and, finally, Dublin, where Alfred was discharged in 1882, on completion of his term of service. Alfred returned to England, with his family, and at the 1891 Census they were resident at 3 Rickett Street, Fulham, London. William, however, was not recorded at Rickett Street with the rest of his family. He was to be found about a mile away at 23 Fopstone Road, Kensington, at the age of 13, as a General Domestic Servant - probably an economic necessity in such a large working-class family.
William's younger brother, Archibald (nicknamed Jock as a result of his birth in Scotland) was also not recorded at Rickett Street at the 1891 Census. He was living with his uncle and aunt, Stephen and Sarah (nee Kaley) Symons, at 6 Lawes Cottages, Creeks Mouth, Barking, Essex, and recorded as their son. With Stephen and Sarah apparently otherwise childless, this seems to be another hard-headed family solution to economic reality and also perhaps to the heartbreak of childlessness.
Four of William's siblings emigrated to Canada between 1903 and 1911 (see My Canadian Humphries Family).
William married my Grandmother, Elizabeth Alma Rice, in May 1901 at St. Oswald's, Fulham, London. They had 10 children, the youngest of whom was my mother Grace Mary (1924-1997).
---