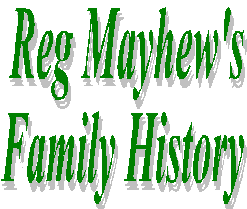 MY CANADIAN HUMPHRIES FAMILY
The death of my Great Grandfather, Alfred James Humphries, in 1901, at the age of 49, undoubtedly led to increased hardship for his family and its subsequent break-up. At the 1901 Census taken 3 weeks before his death, 7 of his children (out of a total of 12 surviving) were still residing with Alfred and his wife Hannah Mary at 3 Rickett Street in Fulham, London. With no main breadwinner and 4 children at home under the age of 15, the strain on Hannah, as a single parent, to continue to look after her family must have been overwhelming. With no social system in place to help, relief, if it can be called that, came in the shape of the child migration scheme, "Home Children"(see Note below).
---
In July 1903, daughter Florence (in domestic service in Scotland) was married to John Sinclair in Cathcart, Renfrew and emigrated soon after to Canada.
In the same month, Florence's younger sisters, Maud and Elizabeth (Lizzie), were shipped out to Canada as Barnardo girls, on the ship "Dominion" from Liverpool to Quebec. We can only imagine Hannah's feelings as her young daughters moved some 3,000 miles away, albeit with the prospect of a better life for them. The girls were received at the Barnardos Receiving Centre at Hazelbrae, Peterborough, Ontario and were transferred to sponsors at Whitby and Warsaw, Ontario, but sadly Maud died after a few months.
In 1911 Henry (Harry) emigrated to Canada at the age of 17 and he was living with sister Florence and her family that same year as recorded in the Canadian Census.
Also in 1911, there was a crisis in sister Isabel's family, with 4 of her children taken into care by the Catholic church. Subsequently, 2 of her sons were shipped out to Canada under the auspices of the Catholic Emigration Association.
So, by 1924 there were 5 of my Humphries family in Canada, a situation born out of a set of sad circumstances in England but hopefuly with a happy ending for them as they settled in their new Country and laid the basis for future generations of Canadians.
Note:- My family in the UK have been hugely interested in the story of their Canadian Humphries relatives and the question that seems to intrigue all of us is, with different members of the family arriving by different means, did they ever regroup and enjoy life again as a family unit or did they all 'plough their own furrow' in their new homeland. Carol Collins has told me that Lizzie, Florence and Harry were all living in Ottawa and kept in touch and shared family events. Carol met her husband Gary (my 2nd cousin) in 1958 and met all of them at family gatherings. They stayed close.
---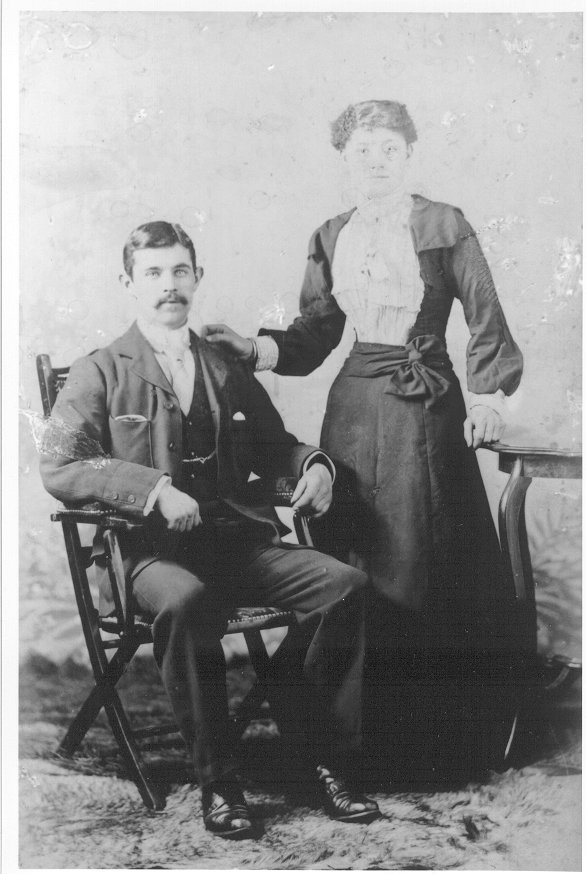 Florence and her husband John Sinclair, a Dairyman, settled in Ottawa, Ontario. In the 1911 Census they were recorded at Gloucester, Ottawa, with their 3 children, Bessie, Peter and John and Florence's brother Harry. Their fourth child Robert was born in 1912. Their other children were Jean, Harry, George and William.
John senior died in 1935 and Florence in 1975. At the time of Florence's death it was reported that she had 21 granchildren and 39 great grandchildren.
---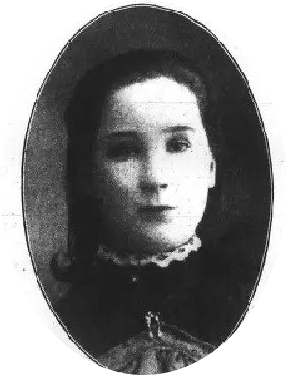 Maud's chance of a new life with a brighter future was ended tragically with her death from meningitis in 1904, after just a few months in Canada.
The "Whitby Keystone" (25th February 1904) reported "On Friday morning last a sad death occurred in our town, in the taking away of Miss Maud Humphries. The young girl was fifteen years of age, and far away from her nearest friends in England. She came to Mrs. J.M. Denyes from Hazel Brae, Peterborough, one of the Barnardo Homes, last fall. During her stay here she has been faithful in all her duties, and had won the respect and regard of all with whom she had come in contact. She became a member of the Methodist Church recently, upon her own expressed desire, and in the Sabbath school and Junior League she was much interested, being a regular attendant at both. She was ill but a little more than a week. An attack of grippe (flu) developed complications of a cerebro-spinal character and, despite every medical attention, she was unable to rally. The funeral was held on Saturday afternoon and was of a private character. Members of the Sabbath school and Junior League were present. The latter organisation sent a beautiful spray of flowers, and other friends manifested their regard and sympathy in the same way. The service was conducted by Rev. Mr. Emory, of the Tabernacle, and interment took place in the Union Cemetery."
---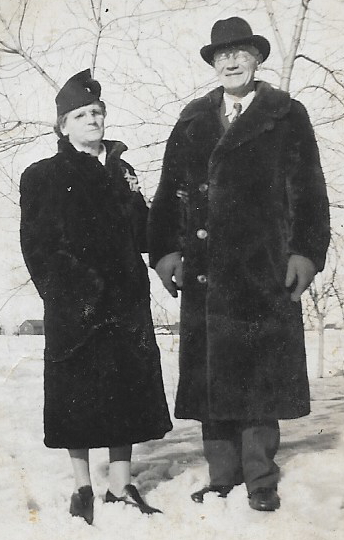 Elizabeth (Lizzie) was sent to Whitby in 1905, when her sponsor Dr. Meacham died, to stay with Mr. and Mrs. Denyes (Dr. Meacham's daughter) on their farm. In 1905, Lizzie's sister Florence in Ottawa applied to Barnardo's to take Lizzie in and maintain her. Although permission was obtained for this, Barnado's subsequently decided that the Sinclairs' home in a small house shared by several other families would not be a suitable home for Lizzie. However, she continued to have contact with her family - Barnardos reported in June 1907 that she "visited her married sister in Ottawa and enjoyed the outing very much".
She was schooled at Whitby Ladies College c1910 and married Thomas Howell Thomas, a Welshman, in Toronto in 1913. In 1914 their first child Gwyn was born in Ottawa and in the following year Thomas signed up for the Canadian Overseas Expeditionary Force to fight in WW1. They travelled back to Britain in 1915 and Lizzie gave birth to their second child, Howell Evan, on 13th February 1916 at 34 Breer Street, Sands End, Fulham, where her elder sister Ellen (Nell) lived with her family. Thomas and Lizzie's daughter, Evelyn, was born in Pontypridd, Wales in 1918 and they were back in Ottawa, Canada, in 1924 when their son Roy was born.
Thomas died in 1950 (Lizzie was overseas on a trip to Britain at the time) and Lizzie in 1988. It was reported at the time of Lizzie's death, that she had 14 grandchildren, 31 great grandchildren and 6 great great grandchildren.
---
In 1911 two of Isabel's sons by Alfred Hitchcock, Stanley George and Albert Henry, were taken into care by the Catholic Church, presumably because they could not be looked after by their parents. Then, in 1914 (on RMS Victorian) and 1923 (on SS Montcalm) respectively, they were shipped out to Canada, designated on the Passenger Lists as "Farm Workers". How they fared in their new Country is not yet known to me.
---
Harry married Daisy Anne Edwards on 1st May 1916 in Ottawa, where they resided at least up to the 1921 Census. Harry was recorded as an Air Hose Repairer (in 1916) and Book Keeper (in 1921), so it seems he was a man able to adapt to circumstances and opportunities. Subsequently, he was Chief Clerk for the Canadian Pacific Railway (Investigation Division) until his retirement. Harry and Daisy had 2 sons, Harry junior and Arthur.
Harry junior served in the RCAF/RAF in World War 2. He was a prisoner-of war from July 1942 to Spring 1945.
Harry senior died in 1985 in Ottawa, aged 91.
---
With many thanks to Carol and Gary Collins (my 2nd cousin) for much of this information.
---
MY CANADIAN HUMPHRIES FAMILY TREE
CLICKING ON ORANGE LINKS IN TREE WILL GIVE MORE INFORMATION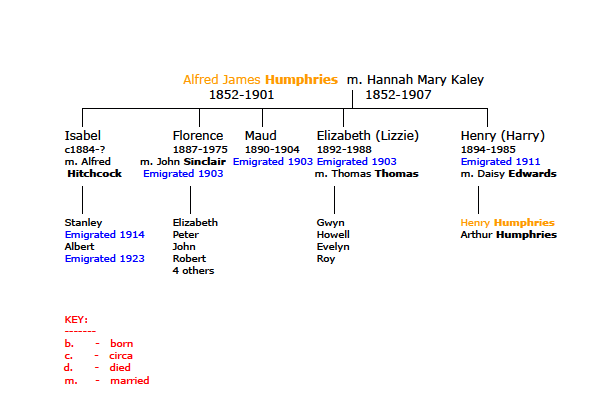 ---
Home Children - Between 1869 and the late 1930s, over 100,000 juvenile migrants were sent to Canada from the British Isles during the child emigration movement. Motivated by social and economic forces, churches and philanthropic organizations sent orphaned, abandoned and pauper children to Canada. Many believed that these children would have a better chance for a healthy, moral life in rural Canada, where families welcomed them as a source of cheap farm labour and domestic help. Some of these children were homeless and found on the streets. Most, however, were from broken, single-parent, and/or poverty-stricken homes and families. The intention of the child migration schemes was to remove children from what were believed to be unhealthy and socially and morally unacceptable living conditions in England, and place them in Canadian homes, farms and families. Here, it was expected the children would learn skills and become productive members of the working class, training as helpers of some sort; house servants, child companions, and farm labourers were the most common. After arriving by ship, the children were sent to distributing and receiving homes, such as Hazel Brae in Peterborough, Ontario, and then sent on to farmers in the area. Although many of the children were poorly treated and abused, others experienced a better life and job opportunities there than if they had remained in the urban slums of England.
---
2010: Then British prime minister Gordon Brown apologised to home children, "We are sorry that instead of caring for them, this country turned its back. And we're sorry that the voices of these children were not always heard, their cries for help not always heeded. And we're sorry that it's taken so long for this important day to come and for the full and unconditional apology that is justly deserved."
Barnardo's, which remains a children's charity, responded, welcoming the apology: "We were one of many agencies involved in child migration in the last century, a policy which was once mainstream child-care practice. We express our deepest sympathy for anyone who suffered."
---