Grace Mary HUMPHRIES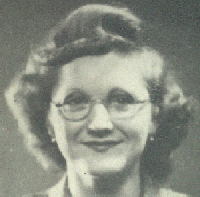 [23]
23 Mar 1924 - 12 Jan 1997
Father: William Alfred HUMPHRIES
Mother: Elizabeth Alma RICE

Family 1 : Reginald George MAYHEW
---

                             _Alfred James HUMPHRIES _+
                            | (1852 - 1901) m 1870    
 _William Alfred HUMPHRIES _|
| (1878 - 1924) m 1901      |
|                           |_Hannah Mary KALEY ______+
|                             (1852 - 1907) m 1870    
|
|--Grace Mary HUMPHRIES 
|  (1924 - 1997)
|                            _Allen Henry RICE _______+
|                           | (1857 - 1897) m 1881    
|_Elizabeth Alma RICE ______|
  (1882 - 1966) m 1901      |
                            |_Mary Alma WALSH ________+
                              (1857 - 1901) m 1881    

---
[23] EULOGY - written by her son Reg Mayhew and read at her funeral. "Grace's early life was not without troubles. Her father died a month after she was born and her mother was left to bring up a large family during the hard years of the 1920's and 30's. But Grace grew up surrounded by the love and affection of her mother, brothers and sisters. Her upbringing and her family's dignified struggle against hardship developed in her a great strength of character. In her life, she drew on this strength to give support and love to family and friends when they were in need of it. Many of you here will have personal experience of that and remember her dearly for it.

"She is one of the bravest, little women I know". Those words were spoken nearly 70 years ago (by the Minister at her brother's funeral) to describe Grace's mother Elizabeth Humphries. How apt those words were, 50 years later, to describe Grace herself , for the way in which she faced up to the tragic loss of her dear husband, Reg. Her bravery, then, and her positive approach to getting on with her life gave her children the support and strength they needed to come to terms with the loss of their father.

Everybody warmed to Grace. She loved to talk to people, made friends easily and was companionable and sociable. People got to know her and love her very quickly. She had a strong sense of fairness and was ever ready to defend the underdog. She was hard-working but knew how to enjoy herself. Her sense of humour was never far from the surface and she was never too busy to share a laugh and a joke.

A loving wife, mother and sister, a proud & doting Grandmother, a faithful friend - Grace's life revolved around her family and her concern was always for their happiness and well-being. There can be no greater tribute to her memory."
[16] death:Present at death: Reginald Mayhew (son) & Sheila Mayhew (daughter)
[4776] marr:Witnessed by: A. William Mayhew & Allan A. Humphries
[19] [S-S009] Family knowledge

[21] [S-S009] Family knowledge

[22] [S-S009] Family knowledge

[17] [S-S009] Family knowledge

---
HTML created by GED2HTML v3.6-WIN95 (Jan 18 2000) on 03/23/2021 08:54:22 PM GMT Standard Time.
---