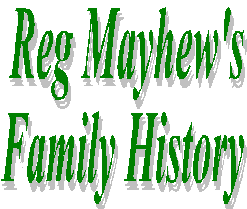 HENRY (HARRY) FREDERICK CHARLES HUMPHRIES (1914-1996) - FLT. LT. RCAF/RAF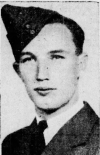 Henry (Harry) Frederick Charles Humphries, my 1st cousin once removed, was born in 1918 in Ottawa, Canada, the son of Harry and Daisy (nee Edwards) Humphries. Harry junior attended the Ottawa Technical High School, specialising in auto mechanics. Prior to enlistment in June 1940, he was employed by Beach Motors in Ottawa and by the Canadian National Railways in Montreal.
After enlisting, he served for a month with the Three Rivers Tank Corps before transferring to the Royal Canadian Air Force (RCAF). He received his badge at Jarvis RCAF station, Ontario (Bombing & Gunnery School) and went overseas in April 1941.
Shortly after arriving in England, Harry played a part in the 1941 British motion picture "Target for Tonight", appearing on the screen five times in scenes laid in the training school, in a lorry driving the air crews to their bomber station and on the airport field itself as he pulled on a flying suit preparatory to taking off in a flight headed to Berlin.
On 1st April 1942, there was an article in the Ottawa Journal giving an update on Harry's progress. He had recently been promoted to the rank of Flt. Sgt. and was attached to RAF Bomber Command. He had been formerly with the crew of a Hampden bomber but recently transferred to a four-engine type (not named).
At 23.30 on 26th July 1942 Lancaster R5784 of 106 Squadron took off from Coningsby in Lincolnshire to bomb Hamburg. Harry had been trained in navigation and radio communications and had the rank of Pilot Officer with the duty of Mid-Upper Gunner on this raid. The Squadron Operations Record Book recorded "No news received from aircraft after leaving Base - FAILED TO RETURN"
The Lancaster was intercepted by a German night fighter, piloted by the German ace Lt. Lothar Linke, and shot down after a short aerial combat near Opeinde, Holland, 35 kilometres southeast of Leeuwarden. One bomb remained on board when the Lancaster crashed and it exploded on impact with the ground. Three of the crew members died trying to escape from the plane and another was never recovered. One of the parachutes had opened too soon and plugged an escape hatch. Harry and two others managed to bail out of another hatch and were taken prisoner of war by the Germans. According to Harry's son, William, "He was on the roadside and his head was bleeding. He looked and there were Germans". Harry was interrogated and taken to Stalag Luft III in Sagan, now in Poland. The camp, which held Allied airmen, was the scene of the Great Escape in March 1944, as prisoners attempted to tunnel their way to freedom.
Through his letters home to his parents, details of which were published in Ottawa newspapers, we learn of Harry's day-to-day life as a prisoner of war. In mid-August 1943, he says "By using a pancake mixture and a ground biscuit mixture, I can make a pretty fair cake and the fruit you sent certainly comes in handy". He speaks quite proudly of his garden, which consists of a dozen tomato plants. At the end of the same month, we learn that he keeps up his studies, studying Spanish from magazines. He has a small garden and for recreation he plays softball and basketball with his other friends in the camp. "The camp", he writes, "is very well-organised and much better than the one we were in in Poland during the winter". In his room, there are eight men, three of them Canadians. A day or so before he wrote his letter, a new prisoner had arrived, a Canadian from Winnipeg, and from the news brought in his outlook was much brighter. "I hope the big day isn't too far off", he remarks to his mother. In fact "the big day" didn't arrive until Spring 1945, when the PoW camps were liberated.
Harry survived the Prisoner-of-War camp and, following liberation, arrived in England on 7th May 1945. In January 1946, he was back in Canada, and he married Elizabeth Crowe in Montreal. He became Ontario's deputy registrar general for births and deaths and his signature appeared on certificates during his tenure.
In an interview with Harry's son, William, in 2010 it was revealed that Harry was a member of the Prisoners of War Association back in Canada. Its members would occasionally get together for lunch, but they rarely talked about the war. His father was a quiet man who loved gardening and hated confrontation.
Harry died in 1996, aged 82.
With acknowledgement to the Ottawa Journal and Ottawa Citizen.