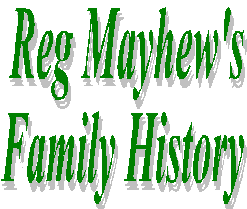 My Ragless family link is through my maternal 4 x Great Grandmother, Rebecca Ragless. Rebecca, the eldest of 5 children of Richard and Mary (nee Penfold) of Angmering, Sussex, married my 4 x Great Grandfather John Crowley, an Excise officer, in 1796.
---
From Rebecca, I've traced my Ragless ancestry back to my 7 x Great Grandfather, Henry Ragless, ?-1765, who married Sarah Upperton in 1710, in Poling, Sussex. Where Henry originated from is not known.
Henry and Sarah had 3 children, the eldest being Thomas (1712-1791), my 6 x Great Grandfather.
---
Thomas Ragless (1712-1791), my 6 x Great Grandfather, was baptised at St. Nicholas, Poling, Sussex. His first marriage, to Anne Brockhurst, produced 6 children, including my 5 x Great Grandfather, Richard (1751-1831). Anne died in 1766 and Thomas subsequently married Mary Fibbens in 1770 at Angmering. Thomas and Mary had no children.
---
Richard Ragless (1751-1831), my 5 x Great Grandfather, married Mary Penfold on 2nd September 1779 at Angmering. They had 5 children, the eldest of whom was Rebecca (1779-1821), my 4 x Great Grandmother. Richard died on 4th December 1831 at Fulham, London, Middlesex, outliving his wife Mary who died at Angmering, Sussex in 1823.
Note:-Rebecca's two brothers, Henry and John, married two sisters of my Cobb family, Jane and Elizabeth (my 3 x Great Grand Aunts). Exactly how the Ragless and Cobb families first became associated with one another is not known but Fulham in Middlesex is a common thread. The Cobb family were established there in the late 18th century and Jane and Elizabeth and their siblings were baptised at the parish church of All Saints from 1787 to 1803. Their brother George Cobb junior was born at Walham Green, Fulham in 1787 and Richard Ragless was resident at Walham Green on his death in 1831. Richard's sister Rebecca was resident in Fulham in 1790 at the time of her marriage to Edward Smith and died at Walham Green in 1835 (see her Will).
It's said that the Cobb sisters' youngest brother Joseph Cobb ran a book shop in Sloane Street, Chelsea, where his nephew John Ragless junior worked and improved his reading ability enough to learn about the new colonies of Britain. It was apparently John junior's desire to emigrate which inspired his family to leave England for a new life in Australia in 1838. Their achievements are reflected in this quotation from "Pastoral Pioneers of South Australia" published in 1925 - "The prolific and highly respected family of Ragless occupies an honoured place in the pastoral history of South Australia". (With acknowledgement to "Dust Storms in China Teacups" by Margaret E. Ragless)
---
My 4 x Great Grandmother, Rebecca Ragless, was born in 1779 at Angmering. She married John Crowley, an Excise officer, on 26th September 1796 at St. George, Hanover Square. They had 7 children, including my 3 x Great Grandmother, Mary Bell Crowley (Mary Bell went on to marry Henry Hewett Cobb, another of the siblings mentioned above). Rebecca died in 1821 and was buried at Folkestone, Kent.
---