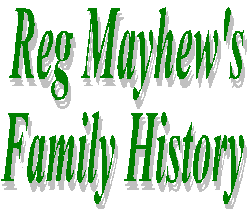 My Cobb(e) connection is by way of my maternal 2 x Great Grandmother, Elizabeth Cobb, who married Allen Rice (a Saw Handle maker) in 1856 at St. Martin's-in-the-Field, London. From Elizabeth, I've traced my COBB(E) ancestry with some confidence back to my 6 x Great Grandparents, William Cobbe and Mary Hewett, whose children, William, Joseph, Hewett (my 5 x Great Grandfather) and Thomas were baptised at Northington, Hampshire, England in 1719, 1721, 1724 and 1726 respectively.
There is a strong case for postulating that the tree can be extended back a further 250 years to William Cobbe of Steventon. This arises from a family tree drawn up by Thomas Cobbe (1813-1882) which survives among his fairly exhaustive researches into the various branches of the family. Alec Cobbe, a descendant of Thomas, is of the opinion that "The fact that the links between William Cobb 'd.c1663' and William Cobb 'b.1689' are drawn in red ink, are unnamed, and are given 'circa' birth and death dates suggests to me that Thomas posited the two unidentified generations on the very reasonable assumption that the William Cobbs of Northington were lineally connected. The fact that the later of the two still possessed property in Northington at the time of his death, shortly after sold by his son William in 1764 to the then owner of the Grange, would seem to me to make that assumption inescapable".
---
Cobb(e) of Swarraton/Northington, Hampshire
Northington's neighbouring Manor of Swarraton was owned in 1568 by one Thomas Cobbe, son of John Cobbe of Swarraton and grandson of William Cobbe of Steventon, Hampshire. The Coat of Arms of Thomas Cobbe of Swarraton was confirmed by Cooke, Clarenceux in 1575 (Heralds Visitation, Hants.) as "Gules a fess or in chief two swans argent".
Thomas's eldest son Michael succeeded him in the possession of the estate. It was Michael who had the Grange built at Swarraton c1594. On Michael's death in 1598, he was succeeded by his eldest son Thomas. On this Thomas's death in April 1638, the Manor passed to his son and heir Michael, and in November of the same year, Michael and his brother, Richard, sold their inheritance to Lord Henry Paulet. The Parish Registers of Northington bear witness to the presence of Cobbs over a period of 200 years (there are 27 entries relating to branches of this family). (With acknowledgement to "A Brief History of the Parishes of Swarraton and Northington" by W.Eyre.)
"However, Michael and Richard retained a landholding at Barton's Farm, near Winchester. Michael Cobbe looked after the estates of the 4th Earl of Southampton, while important connections were established between the Cobbes and Paulets, following the marriage of the younger brother Richard to Honor Norton (1616-1703), whose sister Elizabeth Norton married Lord Henry's son Francis Paulet. The Norton sisters, co-heiresses on the death of their brother, promulgated an intimacy between the two families that seems to have been unaffected by their taking opposite sides in the Civil War. The Paulets were staunchly Royalist - defending Basing House against Cromwellian troops until it had been razed to the ground, with the loss of £200,000 of family property - while Richard Cobbe became Knight of the Shire for Hampshire and represented the county in the Commonwealth Parliament, along with Richard Cromwell, son of the Protector."
Although descendants of the Swarraton Cobb(e)s "continued to live in Hampshire until that side of the family died out in the first half of the 19th century, Charles Cobbe (1686-1765) established the family in Ireland and thus began a new phase in its history. It is from him that the 19th and 20th century members of the family descended, and the landholdings that he acquired and house that he built provided the centre of activity and security for eight generations of his posterity." (With acknowledgement to "The Cobbe Family of Hampshire and Ireland" by Alec Cobbe from "Clerics & Connoisseurs" by English Heritage & Azimuth Editions)
---
My 6 x Great Grandfather, William Cobbe, a Wheelwright of Northington, was born c1689. He married Mary Hewett (daughter of Gilbert Hewett, Rector of Swarraton) and they had at least 4 children, William, Joseph, Hewett (my 5 x Great Grandfather) and Thomas.
William still possessed property in Northington at the time of his death, shortly after sold by his son William in 1764 to the then owner of the Grange, Lord Henley. - (Hampshire Record Office (11 M 52/92).
---
My 5 x Great Grandfather, Hewett Cobb (1724-1808), was born in 1724 and baptised at Northington (the name Hewett (his mother's maiden name) was used for boys in the Cobb family for the next 120 years - the last known to me being the son (born c.1845) of Joseph Cobb and Emma Britten, of Kings Road, Chelsea. The first Hewett married Mary Pain of Richmond, Surrey in 1752 at the Reverend Keith's Mayfair Chapel in London, famous (or should I say infamous) for the performance of the marriage ceremony without obtaining a licence, or publication of banns or consent of parents. Such marriages were called clandestine marriages but, although irregular, were at that time perfectly valid and binding. In 1771, Hewett is recorded * as the Occupier (rate payer) of a tenement on Pesthouse Common (known as Richmond Great Common until towards the end of the 17th century) ( * source: "Cottages and Common Fields of Richmond and Kew" - John Cloake
Hewett and Mary, had 3 children surviving to adulthood, George (my 4 x Great Grandfather), Jane and Hewett, the younger. Jane Cobb married Matthew Burchell, whose uncle William Burchell (1725-1800), became owner of the nationally and internationally renowned Fulham Nursery gardens in Fulham, Middlesex during the 2nd half of the 18th century. Fulham seems to have become home for this branch of the Cobb family - George Cobb's children were baptised at All Saints church and his brother, Hewett Cobb, the younger, is buried there.
Another branch of the family, headed by William Cobb (1719-1798) - brother of Hewett the elder, settled at Brentford End, a hamlet in the parish of Isleworth, Middlesex. The area was dominated by nurseries and market gardens and this was how the family earned their livelihood.
---
My 4 x Great Grandfather, George Cobb (c1763-1838), was baptised in Richmond, Surrey on 24th May, 1763. George, a Corn Dealer/Maltster, married Sophia Tull on 22nd September 1785 at St. George's, Hanover Square. They had 11 children between 1787 and 1805, including my 3 x Great Grandfather, Henry Hewett Cobb, all of whom were baptised at All Saints, Fulham, Middlesex. George and Sophia seemed to have resided at Walham Green, Fulham where their first child George was born in 1787. According to Charles Feret (1900), "Walham Green, though an interesting portion of the parish was never the residence of the better-to-do section of the community".
Two of George and Sophia's daughters, Jane and Elizabeth, married two brothers, Henry and John Ragless, and there is reference to George Cobb in "Dust Storms in China Teacups" by Margaret E. Ragless, about the Ragless family heritage to Australia. It's said that he "was a sea-captain who, although he had legacies left to him, went through them quickly". Although I can't confirm his sea-going connection from my own research, George certainly had financial problems by 1803, when he petitioned for and was granted an Order for Maintenance for payment to him of the accrued interest on his children's legacies, to discharge debts. The Order for Maintenance (Doc. ref. DD/474/3/2/10a-b, held by Hammersmith & Fulham Libraries (Archives)) stated that, "from misfortunes and losses in trade and having so numerous a family to maintain and educate, he became insolvent and is at this time wholly out of employ that from the causes aforesaid, he is considerably in debt for the support and maintenance of his said infant family and is wholly unable to support and maintain them in future." His brother Hewett, in his will of 1822, was at pains to ensure that a bequest to George's wife Sophia should never "be subject to the debts, control or engagements of her husband, the said George Cobb".
George died in 1838 (at which time his occupation was given as "Gardener") and Sophia in 1847, both in Chelsea, London. They were buried at St. Luke's church, Chelsea
---
My 3 x Great Grandfather, Henry Hewett Cobb (c1801-1852), a Greengrocer/Gardener of Chelsea, married Mary Bell Crowley on 12th February 1824 at St. Luke's, Chelsea, Middlesex. Henry and Mary had 11 children, including my 2 x Great Grandmother, Elizabeth. The family lived at various addresses in Chelsea, including Pimlico Road, Arthur Street, Upper Church Street and Blenheim Street.
Henry died in 1852 and was buried at St. Luke's church, Chelsea and Mary died in 1877 and was buried at Old Brompton Cemetery.
---
My 2 x Great Grandmother, Elizabeth Cobb (1834- after 1901), a Dressmaker, married Allen Rice at St. Martin-in-the-Field, London on 18th May 1856. They had 2 sons, the eldest of whom was my Great Grandfather, Allen Henry Rice (1857-97). The family lived at various addresses in Chelsea and Fulham, including Church Street, Little Cheyne Row, Luna street, Cedar Street and Waterford Road.
---